BB Bastard .28g Eco 2000rd Double-Polish 6mm BB's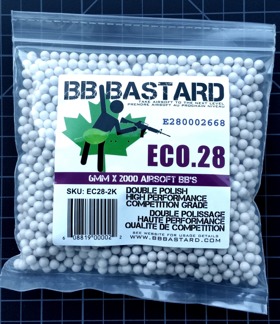 Price:
190 kr
Inc. 25% Tax
SKU:
P1441132
Type:
BB Bastard 0.28 ECO
Out of Stock
The game of Airsoft has evolved considerably over the years. With significant demand for increased range and rates of fire, BB's are constantly being pushed to their limits. BB Bastard is a Canadian company that is devoted to producing BB's of the highest quality to exceed the demands of today's most discerning Airsofters.

These Double-Polish ECO BB's are both environmentally safe, non toxic, and every bit as high quality as the Double-Polish non-Eco BB's. Some of you may be wondering if these ECO BB's are as precise as the non-bio degradable ones. If anything, they shoot a bit more precise due to the superior material compression during molding.

The BB Bastard line of Double-Polish BB's are the result of a ton of research, development, quality control, and testing. All BB Bastard BB's go through a stringent manufacturing process to ensure maximum performance. The end result is a BB that has consistent size, shape, material distribution, and a fine Double-Polish.

That being said, we find that their BB's are perfect for Airsoft enthusiasts who shop at Brill Armory. Although Brill Armory sells many fine barrels and Hop-Up components, the quality of your BB's is also a huge (and often overlooked) factor in determining accuracy.